Pages that are linking to Zach's story
This is Zach.
So is this.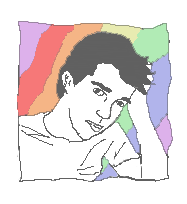 This is Zach's blog.
These are links to people's stories about Zach.
The Republic of T.
Ex-Gay Watch
Janus Online
Cherry Blossom Special
TalkLeft
Crooks and Liars (with local news coverage)
Matt Thomas
The Queer Action Coalition
UPDATE!
Andrew Sullivan
This is how you can help Zach:
Go. Read. Post about it. Email about it. Make a stink about it. Spread the word, folks.